Providing direction based on attributes, advising candidates on suited industries and roles.
Our candidate game-based assessment, Pinnacle Valley, developed by ArcticShores' is an exciting new way to help candidates understand what careers they would naturally be suited for, based on their mind set and how they react.
"70% State they are more excited to work for an employer after playing a Game-Base Assessments" Arctic Shores'
Candidates who take part in the assessment – ­an interactive game for Apple and Android devices – are given a report of their attributes that match their strengths.
This approach to personality profiling moves candidate selection into the 21st Century by analysing the way an individual solves problems, using game technology with cognitive neuroscience and looking at thousands of data points from in-game decisions to build an in-depth profile. Creating an interactive experience to give young people, and recruiters insight into their strengths and weaknesses, is a unique approach to finding the right people for the right roles.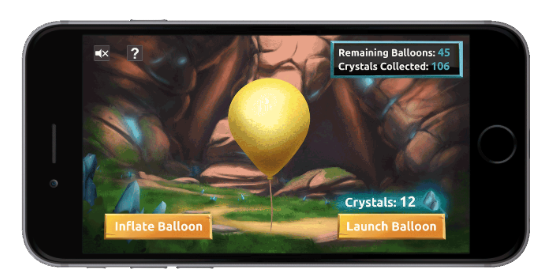 A typical 35-minute game will collect over 5000 data points across 9 different levels and measure 30 traits such as sociability, creativity, altruism and learning agility. At the end of the assessment the report outlines individual strengths, development areas and the type of roles that might suit the candidate, which is generated and attached to their GetMyFirstJob profile.
How will this help you with your recruitment?
Pre-assessing candidates – so you don't have to!
Identifying candidates' strengths beyond qualifications – highlighting attributes relevant to a role or industry
Helping career guidance – analysing careers and roles that are suited to a young people
Increasing success rates – better profiles and more information, leads to better hiring.
Measures to finding the right fit
Pinnacle Valley was specifically created for GetMyFirstJob'sapprentice candidates, measuring attributes that generate data within the assessment provides a fair and objective set of measures (below) to help organisations determine candidates' suitability for a role, specifically lowering dropout rates.
Emotions. How an individual tends to manage their own emotions and understand how other people are feeling.
De-railers. Negative attributes that are likely to emerge when the individual is under pressure.
Aptitude. The number 1 predictor of job and training performance.
Cognition. How an individual processes and uses information to perform mental operations.
Thinking Style. How an individual tends to approach and appraise problems and make decisions.
Interpersonal Style. An individual's preferred approach to interacting with other people.
Delivering Results. An individual's drive to cope with challenges and finish a task through to completion.
GetMyFirstJob, working with employers to create a target fit profile for candidates, allowing recruiters to retain talent and reduce drop off, proven to assist with hiring efficiency. This is based on profiling current employees in similar role significantly lowering drop out.
"Pinnacle Valley follow a widely researched formula whereby workplace behaviour is the product of what an individual can do (ability) and how they do it (style)".
Arctic Shores'
The TalentPortal is a recruitment tool used by providers and employers to gain access to the biggest database of young people interested in apprenticeship opportunities in the UK, with various recruitment options you can tailor your approach depending on your recruitment strategy. Whether that's proactively sourcing and searching candidates or advertising on the leading apprenticeship jobs website – GetMyFirstJob which has 1.2 million visits every year and over 10,000 applications every month. With added aptitude assessments such as Pinnacle Valley and also PeopleFit integrated within the TalentPortal you have the ability to pre-assess or access information not always apparent on a CV.
PeopleFit has been designed to help not only candidates understand how likely they are to behave but also determine this for a potential employer shortlisting. It identifies what the main strengths and training requirements are. Find out more about PeopleFit on our blog.
The TalentPortal works to help hiring organisations and ensuring we bring you the right candidates, and now with the addition of extensive analysis within game based assessments, success in doing so is inevitable.