As the experts in candidates recruitment, we wanted to share our expert candidate insight. Here's a little bit about what we've learnt in recruitment over the years.
So, you have decided to take on an apprentice and are probably looking to find that perfect candidate to suit your business? We thought we would share our experiences and insight to help you get the most out of your next project.
As the market stabilises, and employments rates hit a record high, increasing numbers of vacancies have started appearing. Recruitment platform volumes are also on the rise too, which means more ways to find the vacancies. As a result, candidates have more choice and expectations than ever before. You will find that not only are businesses challenged to meet these, but exceed them too if they stand any chance of appealing to candidates.

As you can see from the below polls taken from our current GetMyFirsJob candidates, pay rate, location and career progression are the top three values when looking for a vacancy.
Of those that answered 37% of candidates also felt that career progression was a big influential factor to them applying for a job. The role itself came in a close second emphasising the importance of job description and specifications.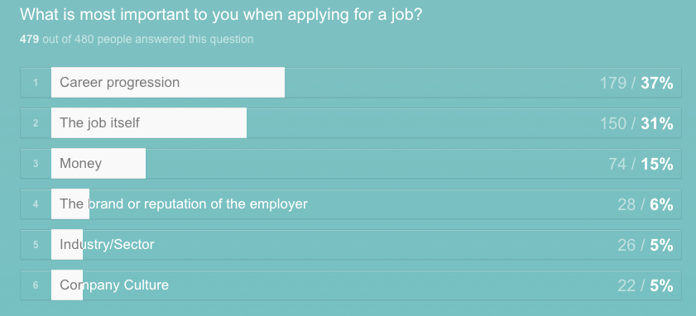 Company ethics is also hugely important to candidates applying for vacancies. Shouting about what you do as a work force and how you do it is a great way for candidates to connect to the personality of your business. Having this connection and transparency will allow individuals to relate externally and drive the appeal of your roles.
Working with local charities, cycle to work schemes, and recycling schemes, shows an interest in not only your employees but also long term sustainability. Many companies feel they have a corporate responsibility but translating this in an advert could real make the difference between applying or not in some cases. Siemens, a featured client of GetMyFirstJob, were named by Forbes as one of the top 10 sustainable employers two years in a row (2017/18). It's no surprise that their candidate focussed marketing activities via GetMyFirstJob have revealed early successes in applications.

SUSTAINABILITY: An organisation's practices
"... that meet the needs of the present without compromising ... the environmental, social and human needs of our descendants." www.wbcsd.org
In a similar vein, Sustainability, defined by wbcsd.org as practices "... that meet the needs of the present without compromising ... the environmental, social and human needs of our descendants." was also of importance to candidates. Now more than ever it seems imperative that companies consider their responsibility with external factors and their professional personality to appeal to Emerging Talent.
Another aspect to focus on when considering your entry level role is pay. We always question 'Why pay the minimum? Why not pay the maximum'. Many employers choose to pay the minimum wage because they see a lot of other employers doing this, allowing them to save considerable costs. Not only this, but with a large proportion of businesses paying minimum wage, they believe they can still remain competitive in other areas. The truth is, pay often denotes the value a company puts on an employee. Paying an employee less says they are worth less. Paying them more obviously means the opposite. The cost to the business is almost always outweighed by the calibre and choice of candidate attracted.
Consider this - we were recently questioned by an employer as to why they weren't receiving any applicants for their role. They were a reputable company, paying £4.50/ph and a fully completed advert. When searching for similar roles in the area, it was discovered that there was an additional 25 employers offering the same qualification, almost identical daily duties, and within a 5-mile radius. A prime example of where you may have a very good role paying more than the minimum, but if there are other employers in the same area paying more, you are just not going to get the volume of applicants.
Competition is often rougher than we realise. Even for a reputable company, the key is to stand out, whether that is a slightly better offering in terms of wage or employee benefits, or communicating the brand image and personality. Consider yourself as applying for the role. Candidates are smarter than some businesses give them credit for and what you offer and how you appear says a lot about your culture.