One thing you may not know about GetMyFirstJob & the TalentPortal is that we're a Social Enterprise. You may think, what does this actually mean? We'll explain it to you.


Youth unemployment is at an all-time high, rising from 30,000 to 764,000. Apprenticeships offer young people the key skills and life-changing experiences, helping them transition from school or college into employment. That is why we're a social enterprise - we are helping to reduce unemployment by giving young people access to information about apprenticeships and the ability to apply for thousands of apprenticeship vacancies across the country.
Our platform allows people to be quickly and efficiently matched to apprenticeship vacancies. Our system allows colleges and training providers to proactively search for candidates allowing the process to become more efficient by searching via certain criteria. We are helping people to find their apprenticeship in the easiest, and most effective manner.
Once the person has finished their apprenticeship they will leave with improved skills, experience and great long-term career prospects giving them that vital first step into their career - improving their young people's employment readiness and as a result their rates of employment.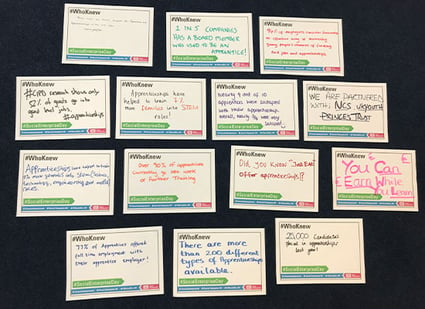 We have recently partnered with other youth organisations looking to help people get onto their dream career path. These organisations include NCS, the Princes Trust and Tomorrow's People to name but a few. Read our blog on the Power of Partnerships to learn more.
Since GetMyFirstJob launched, we have had over 360,000 people sign up to the website, looking for their next opportunity placing more than 25,000 candidates in apprenticeships in 2016 alone!