At TheTalentPeople we focus on apprenticeships all year round, helping training providers and employers find the right talent. During NAW we get everyone talking and celebrating the success of apprenticeships whilst encouraging even more people to choose apprenticeships as a pathway to a great career.
National Apprenticeship Week is coming soon...
At GetMyFirstJob we focus on apprenticeships, helping Training Providers, Colleges, Councils, Employers and more find the right people in young Emerging Talent. National Apprenticeship Week (#NAW19), running from 4th - 8th March, is no different. During this week businesses and apprentices from across England will come together to celebrate the success of apprenticeships whilst encouraging even more candidates to choose this pathway for a long, successful and most importantly enjoyable career.
The theme for the 12th annual National Apprenticeship Week, "Blaze a Trail" aims to showcase and celebrate how apprentices, bring new energy and passion into organisations. Our aim is to shine the spotlight on apprenticeships as a great path for people at any stage of their career; from those starting out, to those re-entering the workforce, or those wanting to reskill or change careers – in whatever industry they may be in!
NAW 2018
National Apprenticeship Week 2018 was record-breaking: with 780 events taking place across England. The ambition of delivering a 10,000 talks movement - #10kTalks – to inspire the next generation of apprentices in schools across the country was exceeded, reaching over 33,500 people. Over 300 schools joined the 10,000 talks movement and a further 130 schools also hosted teacher-to-teacher talks - reaching an additional 2,300 individuals. The Big Assembly reached 20,000 people with a live video stream - showcasing apprentices and employers sharing their apprenticeships stories. Events also took place to celebrate International Women's Day, apprenticeships diversity and a launch event with the BBC and Sutton Trust included the announcement of a new ground-breaking apprenticeship programme.
In 2018 we saw 1 million candidates shortlisted for Apprenticeships
Celebrating one million young people shortlisted for apprenticeship vacancies on GetMyFirstJob.co.uk, we awarded the 1,000,000th in a trophy event – a great milestone. We celebrated at Nesta Headquarters with apprentices, training providers and Alan Mak MP (head of the APPG on apprenticeships), which gave us an opportunity to reflect on our achievements so far...
Now in two years we can look back and say GMFJ has managed over 500,000 applications of young people as they explore the options open to them and take their next steps.
NAW 2019
There's a lot going on and we've outlined just a few things not to be missed from us at GetMyFirstJob during this busy week.
The BIGGEST Careers Webinar
A record-breaking webinar on careers advice for schools, careers advisors, young people and employers, in 2017 over 10,000 attended the live stream promoted to over 2 million young people in advance of the day, this increased to 30,000 in 2018!
"This event is one you won't want to miss!'
While there are many events supporting National Apprenticeship Week, the BIGGEST event you need to know about is The Big Assembly. This March, the Big Assembly is back again – but this time, it is in the hands of the apprentices. The Big Assembly is a live video stream to thousands of students across the UK wanting to find out what an apprenticeship could mean for them. The apprentices holding The Big Assembly 2019 will be telling you about how to apply to an apprenticeship and what the process is like, what it's like to be an apprentice and what your career holds at the end of the apprenticeship.
Schools, young people, parents, careers advisors and employers from across the nation are invited at 10.30am, on 4 March 2019 to take part in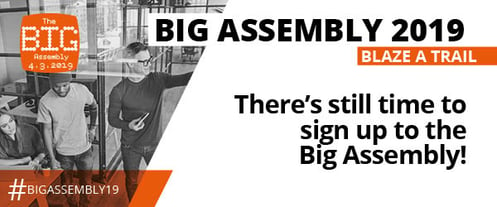 The Big Assembly.The ground breaking event created by the East Midlands Apprenticeship Ambassador Network, Workpays and GetMyFirstJob is in its 3rd year running with support from The National Apprenticeship Service and a range of employers committed to Apprenticeships.
Brought to you during National Apprenticeship Week (4th– 8th March 2019), the Big Assembly aims to get thousands of people online at the same time to learn what Apprenticeships could do for them. This year's Big Assembly is YAAN driven, where apprentices take over and are all featuring on the panel.
The third Big Assembly will attempt maximise registrations and increase the previous online numbers seeking careers advice and guidance.
Helen Richardson, the Big Assembly Producer and Managing Director of Workpays comments on The Big Assembly , "we were bowled over by the excitement and success of The Big Assembly 2017 with over 10,000 people watching the live broadcast all about Apprenticeships."
Employers and apprentices will be sharing their experiences by combining commissioned films by apprentices with a live Q&A with experts.
Schools, young people, parents, careers advisors and employers from across the nation are invited at 10.30am, on 4th March 2019 to take part in this year's Big Assembly.

Their Next Steps...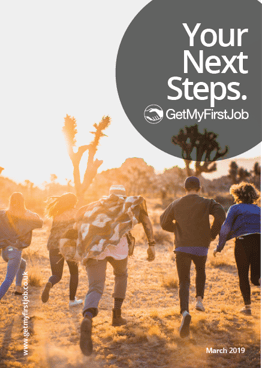 We are talking to over 2,000 schools and 6th forms about steps to their future career. And we want to talk about you too. Our popular Guide is back by popular demand to help inspire and inform students ma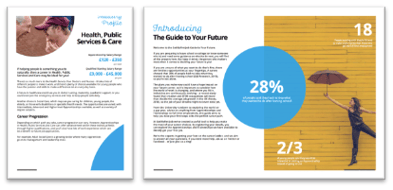 king career decisions. we will be delivering the guide schools during National Apprenticeship Week, exposing incredible range of outstanding brands that feature.
This guide will just support all the great impact we've made!
We know GetMyFirstJob is a great resource with our unique insight into the market given the breadth & depth of opportunities we manage. We have already managed the applications of over 500,000 young people as they explore the options open to them and take their next steps.
What's in the guide, here's a quick outline:
- Overviews on the industries you could work in
- Information about Apprenticeships
- Information about Traineeships
- Information about University
- Information about Gap Years
- Information about working
- Tips & FAQs to help you along the way
- Case studies from people who have been in student shoes
Get Involved
We are still available to help you reach candidates through our targeted email campaigns or marketing services during this time so find out more here or get in touch with TheTalentPeople.
Love and want to celebrate apprenticeships too?! Follow the build-up to the big assembly on twitter @bigassembly and get involved by using the hashtags #FireItUp #NAW2019 #BIGASSEMBLY19 and #BlazeATrail
Follow National Apprenticeship Service: @Apprenticeships / @FireItUp_Apps @fireitupapps FireItUpApps National Apprenticeship Service
If you're interested in promoting your apprenticeships through GetMyFirstJob please visit
TheTalentPeople.co.uk or contact 023 9387 6400.